Safety is our First Priority:
For indoor worship; Please enter the sanctuary through the front doors. There will be no access through the building from the back parking lot.

Face Masks are required indoors. Face Masks must be worn properly, per CDC guidelines. (This means your mouth and nose are covered.) Gators and bandanas are not acceptable Face Masks.

Physical distancing of 6' is required and seating areas will be marked accordingly.

We will have hand sanitizing stations for your use.

You may bring water, but a straw is required. Drinking through a straw allows you to keep your Face Mask on.

This will be a "contactless service." We will not shake hands, hug, exchange printed materials, or pass an offering plate.

We will provide an offering drop-off location; however, we still encourage giving online as the preferred method of giving.
We will not offer Sunday School for adults, youth, or children and we will not have a nursery during Worship. We will continue to offer on-line Sunday School for children and Senior High youth.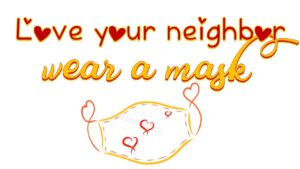 Before You Arrive:
Please be familiar with CDC guidelines for People Who Are at Increased Risk for Severe Illness.
Please affirm that everyone in your group answers "no" to the following questions:
Have I or someone in my group had a fever over 100.4 in the past 14 days?

Have I or someone in my group experienced any flu like symptoms in the past 14 days?

Have I or someone in my group had prolonged exposure to someone who has tested positive for Covid-19 in the last 14 days?

Are there any medical reasons why I or someone in my group should not be around other people?
If you answer "yes" to any of these questions, you may not attend in-person Worship until you have been cleared by a negative COVID-19 test or by a health provider, and answered the secondary list of questions per our protocols.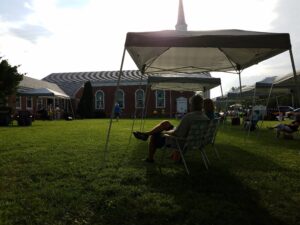 Outdoor Worship
Saturday 4pm –

On the Lawn
Outdoor worship will be moved indoors to the sanctuary in the event of rain.
Bring a chair or blanket to sit on.
A Look Toward the Future:
Please be aware that protocols could change at any time due to COVID-19.
We will continue to monitor best practices from the CDC and other governmental organizations
as we make decisions that affect us all.
Our focus remains to keep our faith community healthy and safe.
We will keep you updated as decisions are made.