GET CONNECTED – BE TRANSFORMED
The goal of our small groups, Life Groups, as we call them, is to build relationships; with one another and with Christ. These groups meet regularly to ask, as John Wesley often did, "how goes it with your soul?" Small groups are not Bible studies or interest-based, they are simply a time to come together with a trusted group to share how you are experiencing God. As you journey within your group you will be transformed as you draw closer to God.
Life Groups meet at the following days and times:
Mondays 7pm, Tuesdays 7pm, Wednesdays 10am and 7pm, and Thursdays 7pm.

Life groups continue to meet even though we cannot gather in person. To join a group contact the church office to obtain the Zoom link. Office@LHUMC.org
Lenten Studies February 21 – April 15
Lent: A Season of Renewal
From endings come new beginnings.
The resurrection of Jesus is our most dramatic and powerful example of an ending that became a new beginning.
The power of resurrection is available to everyone, but we tend to consider and imagine it as "life after death" power. When we relegate the power of resurrection to "life after death" power… we miss the experience of resurrection power in our life… we miss the renewed life found in situations that seem finite in this life.
So… we ask the question…
What does it mean to experience that kind of resurrection?
During this season of Lent, we will explore the steps we can all take to continue living as Easter people, redeemed in the restoring, saving, resurrecting power of Jesus Christ.
Renew your relationship with Christ this Lenten Season and experience resurrection power anew. We encourage you to join a small Lenten group meeting weekly to reflect on the message and spend time with God and one another.
In addition to the small group opportunities, you will also receive daily devotional questions related to that week's message. We hope these devotionals will help you go deeper in exploring your faith, and help you discover resurrection power that exists in our day-to-day lives.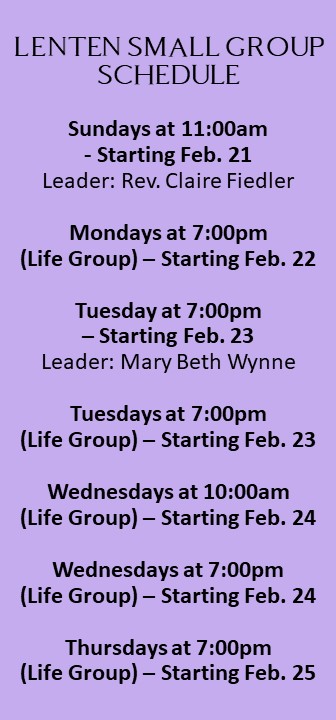 Zoom links have been sent out by email. If you did not receive the email please call the church office to obtain the Zoom information.